Kata Rocks Receives Top 'Luxury Private Pool Villa' Award
Kata Rocks Receives Top 'Luxury Private Pool Villa' Award
Kata Rocks, the five-star luxury residential resort managed by lifestyle design company Infinite Luxury, was named country winner in the 'Luxury Private Pool Villa' by World Luxury Hotel Awards voters. The World Luxury Hotel Awards are among the most prestigious in the international hospitality industry. They were launched in 2006 and provide luxury hotels with recognition for their world-class facilities and excellent service provided to guests. This year over 160,000 individuals cast votes online for their favourite hotels and resorts.
This latest accolade brings the total to over 40 international property and hospitality awards for the luxury resort and comes immediately following being named one of the 25 best hotels in Southeast Asia by the prestigious Conde Nast Readers' 2016 Choice Award.
Michael Nurbatlian, Director of Marketing at Infinite Luxury and Kata Rocks said: "We are delighted to once again be recognised as one of Asia's top award-winning luxury resorts, this time as country winner in the 'Luxury Private Pool Villa' category at the World Luxury Hotel Awards. Kata Rocks continues to innovate and offer guests unique luxury experiences the property has built its reputation on."
A2Zen Consulting Shortlisted for Kata Rocks' Penthouse Interior Design Award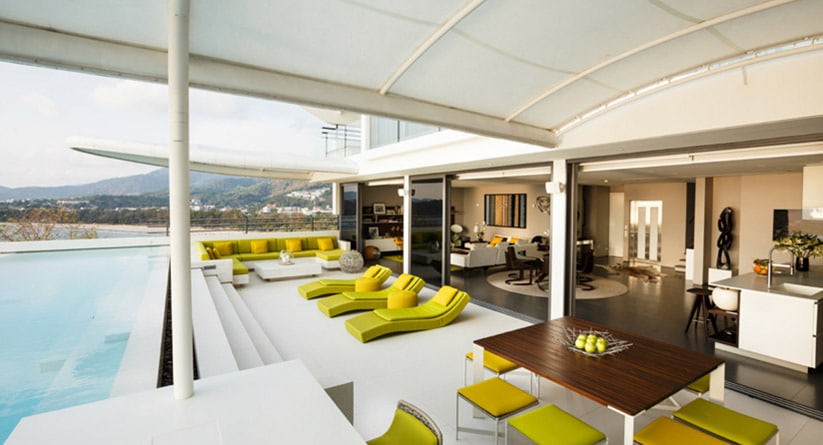 Also, A2Zen Consulting have been shortlisted by The International Design and Architecture Awards 2016 for the company's bespoke interior design project on a Kata Rocks owner's 4-bedroom Sky Villa Penthouse.
The team at A2Zen were given the task to design the interiors of the Penthouse to live up to Kata Rocks' multi-award winning standards.
The plan was to open the living area for entertaining and indoor/outdoor living flow. The client identified green and yellow as favourite colours, requesting the designers incorporate them throughout the entire space. This vibrant colour pallet opened the penthouse and in turn gave the place a very spacious and tranquil feel.
The designers were also tasked with turning the sea view terrace, with its stunning 11-metre infinity pool and epic Andaman sea views, into an expansive entertainment area using the same bright colours to continue the project's overall theme and consistency.
With large floor-to-ceiling windows, the amazing open terrace acts as an extension of the living room, something the client and designers both wanted. Maintaining its impeccable attention to detail, the team at A2Zen continued to work closely with the client to create a very specific and beautifully tailored home.
You may also be interested in...